On the 4th of February, I had the immense pleasure to meet with Vancouver's self-taught artist Lauren Brevner. Her mesmerizing artworks depict the female form in a brilliant, elegant and sophisticated manner. Her large formats are the quintessential of the term "mixed media". Brevner's uses oil, acrylic, chiyogami, yuzen and washi Japanese paper, metal leafs, resin and even a blow-torch to achieve her jaw dropping aesthetic.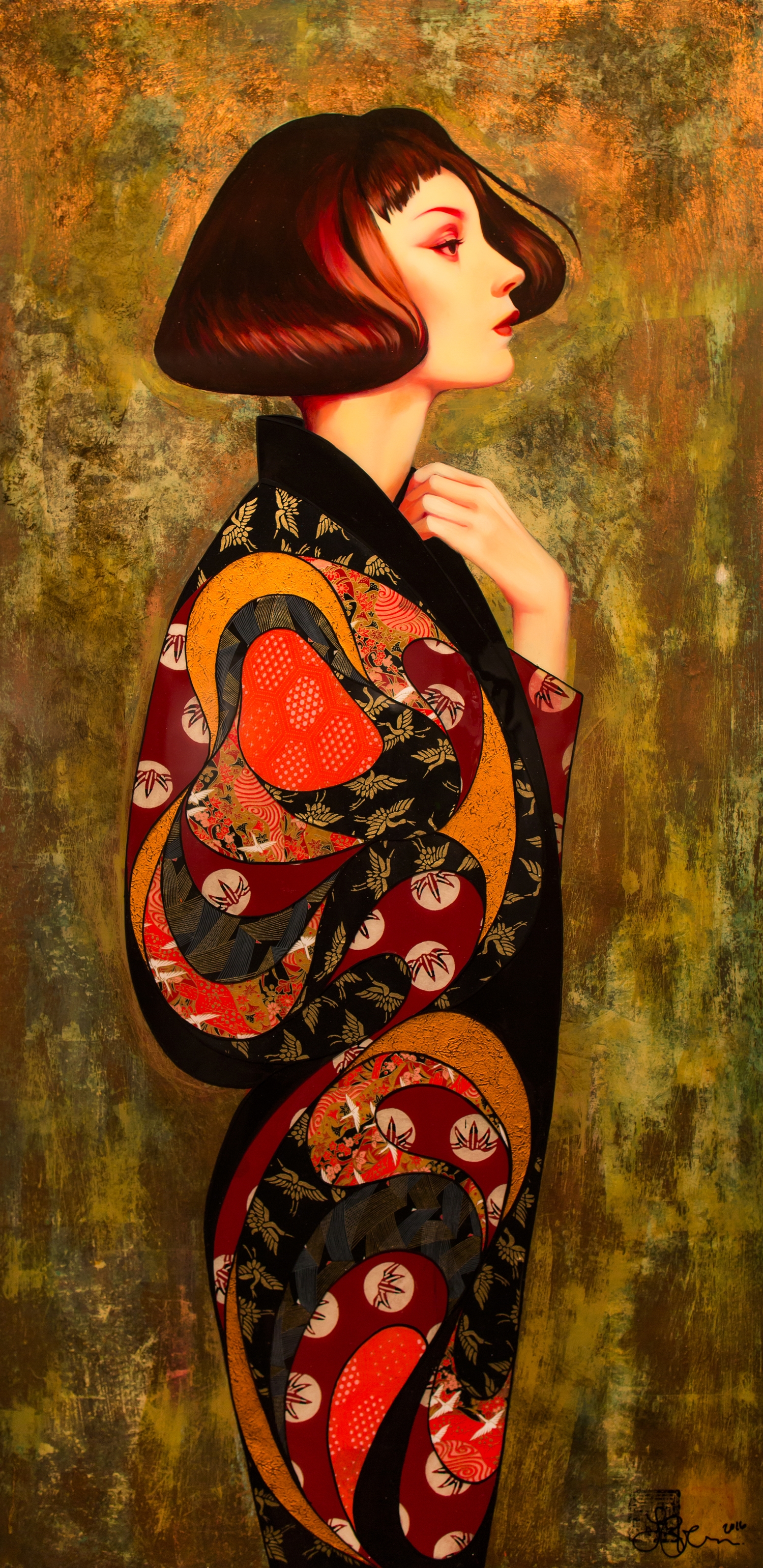 Lauren Brevner's art is the result of endless exploration with traditional and contemporary mediums. As incredible as it may seem, she does not undertake any type of preparatory work! The artist draws the feminine figure directly on wood, a material she affectionate particularly for the richness of the grain. Once the damsel has been drawn on the wood panel, she layers the underpainting in acrylic and then paints the facial features exclusively in oil. Afterwards, she applies up to five layers of resin (and blow-torches the bubbles away) to produce the iconic and mesmerizing depth within her paintings.
Even after applying various layers of resin, her artistic process is far from over. Lauren adds metallic leaves of gold, silver and/or copper to her female "portraits". Then, she designs luscious clothing for "her girls" in an intricate collage of traditional Japanese paper. Just as in a sublime game of Barbie doll, Lauren Brevner combines an exquisite colour palette and undulations of forms to bring "her girls" to life.
The first question that came to my mind as I was blown away by the show was: who are these women? Are they real? Does the artist work from photography first? Well, as unbelievable as it may seem, she doesn't! Lauren Brevner's striking portraiture come straight from her imagination (so technically, I can't use the word portraiture but you guys get the concept...). The majority* of her work are designed by mixing features of different women she sees, her own criteria of feminine beauty and a strong belief in female empowerment.
The talent and the dedication of this young self-taught artist has no limits. After a life changing trip to Japan and a four months residency in New York, Lauren Brevner is fully dedicated to her art. She mentioned that her style has evolved tremendously in the past two years. Particularly, since her association with Artlink-Canada, a dynamic and mobile Art Gallery directed by Crane Wang and Allison Thompson.
"I really feel my aesthetic changed completely since I started working with Artlink-Canada. We are all young women wanting to create something new in the Canadian and international art scene and I find that really inspiring".
TAKANE NO HANA is Lauren Brevner first solo exhibition in career. Reaching this level of finesse and beauty for a first show is something I have rarely seen before. Don't forget that this artist is self-taught, which means she didn't enroll in any artistic school program. As you can see with all of the masterpieces above, she doesn't need it.
Camila's Art World Wise Advice: Never give up. Your art is worthy of being included in the best international collections and in every Contemporary Canadian Art museums. You've got the magnetism of Klimt and the intricate process of the old masters. Don't change a thing to your girls.
To learn more about Lauren Brevner's work visit CBC Arts.com:
• Only two pieces in the show were portraits of existing women: Renge inspired by the American model Devan Aoki and Ka&Ko, a diptych representing her young cousin.
** Exhibition information: TAKANE NO HANA, Feb 4 - 25, 2016, Twist Gallery, 1100 Queen Street West, Toronto. Gallery hours : Tue - Sat 11 – 6 p.m.